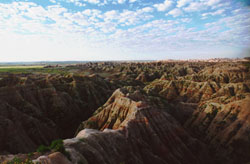 Badlands National Park



Campground

[ Travelogue ]
[ Thumbnails ]
[ Travel Map ]



On my way to Badlands National Park, I noticed an unusual number of motorcylces, specifically Harley Davidsons, all going the same direction. If I thought I had come all this way for a peaceful commune with nature, I was sadly mistaken.

When I reached the Park, I immediately understood how the area got the name Badlands. Any early pioneers trying to cross this steeply carved rocky terrain would have had a bad time indeed.
Once I got settled in the campground, I made a pilgrimage to walldrug in nearby Wall, SD. The scene was unbelievable. There were Harleys and bikers everywhere! A police officer explained to me the this was all fallout from the annual motorcycle rally in Sturgis. Although seeing all the motorcycles and bikers was fun and novel at first... it soon became giant (loud muffler) headache.
NEXT STOP: Blackhills National Forest