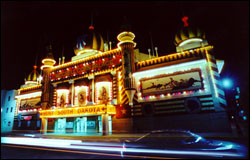 Corn Palace - Mitchell, South Dakota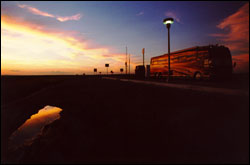 Rest Stop Sunrise, South Dakota

If we were to rank states by the number of roadside attractions they contain, Wisconsin, Minnesota, and South Dakota would be right up at the top of the list.

Wisconsin- The brochure rack at the visitor's center at the Wisconsin border reads like a who's who of roadside attractions: World's Biggest Badger, World's Largest Talking Cow, Fred Smith's Concrete Park, Worlds Largest Replica Cheese, Robot World, and of course, Circus World Museum.

Minnesota - One of the oddest attractions I saw was the History of Meat Museum, also known as the Spam Museum, in Austin, Minnesota. Sponsored by Hormel and housed in a small strip mall, the museum documents the past glories of Hormel. On exhibit: Old copies of Squeal, the Hormel company magazine, the first canned ham, and "Slammin' Spammy," the bomb-throwing pig symbol from World War II.
Minnesota is also the original home of the Jolly Green Giant. A 55 foot statue commemorates.
South Dakota - It was well past sunset when I pulled into Mitchell, SD, home of the Corn Palace. Touted as the "agricultural showplace of the world," it is five stories high, covers a square block, and is covered with murals made of corn, grain, and grass.
NEXT STOP:
Badlands National Park