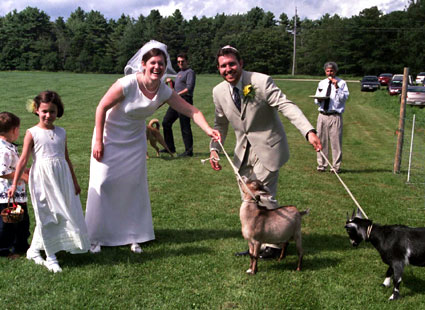 Margaert Hathaway (Schatz!) and Karl Schatz lead a pair of pygmy goats at their wedding at Wolfe's Neck Farm in Freeport, Maine (photo by Robert Neudel) | More Wedding Photos
We have an announcement!
FREEPORT, Me. -- On the afternoon of August 8, 2004, Margaret More Hathaway and Karl Geoffrey Schatz were married at an outdoor ceremony amidst family, friends and goats. The wedding took place in a field on the ocean at
Wolfe's Neck Farm
, in Freeport, Maine. Wolfe's Neck is a working farm, specializing in all-natural beef and agricultural education. Among the wedding party were two live goats. In the traditional Jewish wedding ceremony, Rabbi Susan Bulba-Carvutto discussed the role of goats in Judaism. A klezmer band, the
Casco Bay Tummlers
, provided music for the ceremony and the following reception. The couple's first dance was Had Gadya, a traditional Yiddish tune about a little goat. The reception, a light luncheon and summer tea, featured local goat cheeses and Goats do Roam wine. After the meal, guests played croquet, engaged in Jewish folk dancing, and mingled with the animals. As wedding favors, Margaret and Karl made dozens of goat cookies and packaged them with a note saying that the gift of a goat had been made to the charity
Heifer International
in the name of their guests.