A bit of shameless promotion - help us get the word out and win a new YOTG t-shirt!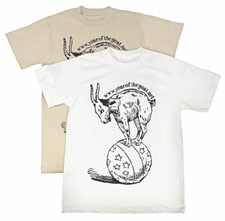 That's right, goat fans, each month between now and December we're going to be giving away 3 snazzy new YOTG t-shirts. Here's how you can be one of the lucky winners:
Just post a review or comment about the book to any website or blog*
Send us the link to your posting or review
We'll enter your name in a monthly drawing, and at the end of each month, draw 3 names
If we draw your name, you win, and we'll send you a YOTG T-shirt!
We'll also post a link to your review here on this page!
Enter as many times as you like!
August Reviews
Bret Thorn, Nation's Restaraunt News Food Writer's Diary Blog, August 10, 2007
WRITE YOURS TODAY!!
*suggested places for posting your reviews: Amazon.com, MySpace, Facebook, your blog or website, etc.
Send your entry links, questions or comments to info@yearofthegoat.net