Information about The Year of the Goat: 40,000 Miles and the Quest for the Perfect Cheese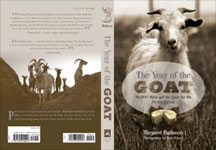 By Margaret Hathaway
Photographs by Karl Schatz
Publisher: The Lyons Press
Release Date: August 2007
Hardcover: 224 pages
ISBN: 978-1599210216
Download Cover (High Res JPG 2MB)
Read the reviews




Many people dream of leaving the workday world for a life of simplicity and freedom, and Margaret Hathaway and Karl Schatz did just that. Feeling like something was missing from their city lives, the couple began to dream of an existence that was closer to the land and became captivated by the idea of themselves as... goat farmers. Realizing that they knew little about goats, and even less about farming, they gave themselves a year to explore the world of goats and decide if that was where they belonged. In THE YEAR OF THE GOAT, the reader can jump in the "goat mobile" and follow their adventures as they ditch their big-city lifestyle to trek across forty-three states in search of greener pastures and the perfect goat cheese. Along the way, the reader is introduced to a vivid cast of characters--including farmers, breeders, cheese makers, and world-class chefs--and learns everything there is to know about goats and getting back to the land. From the largest goat auction in Texas to a small Indiana dairy, from a Tennessee barbecue cook-off to a tasting session with New York's premier maitre fromager, from Chicago's famed Billy Goat Tavern to the rolling pastures of Northern California, the couple pursues all things goat. But readers beware: when it comes to goat cheese, it can be love at first bite.

Part food memoir and part picaresque travel narrative, THE YEAR OF THE GOAT marries the author's twin obsessions with food and all things goat and tells the story of one couple's fascinating journey.



What people are saying about The Year of the Goat

a few thousand miles' worth of earnestly documented visits to such goat-focused destinations as halal slaughterhouses, goat chariot races, goat barbecues, and even the experimental goat farms of Auburn, Alabama, "the epicenter of research on goat reproduction", can hardly fail to awaken in the reader a genuine appreciation for, if not the world's finest cheeses, the endearing creatures (human and animal) that make some of those cheeses possible.


Delightfully, Hathawayıs honest, whimsical prose and Schatzıs photography make The Year of the Goat just as captivating as the coupleıs storyŠ[Itıs] told with such earnest passion and curiosity, that itıs impossible not to root for these two as they wind their way around the country.


The Year of the Goat immediately engaged me. Hathawayıs writing style is easy going and light, which makes it delightful to read. Her writing style reminds me of Ruth Reichl in its grace and accessibility.


In a fascinating new book, photographer Karl Schatz and writer Margaret Hathaway spend a year traveling across the United States, capturing the heart of American goat culture

Getting Your Goat - An Interview with Margaret Hathaway and Karl Schatz

Hathaway and Schatz's goat odyssey might be a little extremeŠbut the oddest observation in this charming and uplifting tale is that [they] aren't aloneŠ Hathaway and Schatz end their journey on their own farm. The goats are in pens, but their owners are free.

This couple just smiles, and says 'goat cheese'


Major life changes usually have predictable catalysts: a job offer, a divorce, a windfall, or a health crisis. Less likely is something as mundane as a plate of goat cheese, but that's what was responsible for four Alpine dairy goats, a rambling 106-year-old farmhouse in rural Maine, a baby girl, a book, and everything else that's happened to Margaret Hathaway and Karl Schatz in the last few years.


Anyone who has watched someone fall in love will recognize the symptoms: It's sweet; it's naive; it's insane; it's contagious. But what Hathaway and Karl Schatz, her fiance (and photographer), have fallen for is the idea of raising goats.


I love Hathaway's description of her goaty adventures ... Hathaway's charming writing style illuminates rural landscapes and quirky, generally likable farmers ... The Year of the Goat is a sunny, optimistic book about a couple chasing an unconventional dream. It shows the back to the land movement to be alive and well and continually reinvented.


Editors' Pick: Must-dos -- to make the most of Fall ... Follow their dream.

- Eating Well Magazine

... a really charming look into an obscure world -- as is done in movies like Ballroom Dancing, Best in Show, a Mighty Wind and so on. But The Year of the Goat, though occasionally tongue-in-cheek, isn't mocking as those movies are, but rather a very sweet exploration of self- and goat-discovery.


Hathaway's descriptions of the characters they meet--both human and goat--are funny and vivid ... This is a book for anyone who's ever imagined going back in time to a simpler life--or anyone who loves cheese.

- Entertainment Weekly

Hathaway pokes fun at her naive notions of rural life with a wicked humor that nicely balances the naked earnestness of the endeavor. The details of animal husbandry and cheese production will intrigue those interested in food's origins, and many readers, particularly city dwellers, will also be captured by the personal story of a young couple's unusually mindful efforts to build a meaningful life together.

- Booklist

Hathaway gives ... a modern twist by emphasizing "terroir," the idea that "food is rooted in the land," and of connecting "the palate to the place." Local-eating, slow-food activists will find much to chew on here.


Reading Margaret and Karl's delightful journey reminded me of the ideals that brought many of us at Moosewood together over thirty years ago. Margaret Hathaway's spirited storytelling and off-beat humor not only reawakened my own memories of adventurous times, but revealed that the dream to go "back to the land" to lead a simpler life is alive and flourishing. And boy did I learn a lot about goats and cheese!

- Wynnie Stein, co-owner/author Moosewood Restaurant
Write your own review and be entered in a drawing to win a YOTG t-shirt!